50 years Wildpark Aurach
We had a good reason to celebrate last year:
Wildpark Aurach turned 50 years old !!!
We came up with a special "present" for our animals to mark the 50th anniversary. 2022 was the year of the lynx and, since the lynx house is our oldest building in the wildlife park, the lates renovations were for the benefit of the lynx family. It involved renovating and modernising the original building, a feeding shed dating back to 1794, and enlarging the outdoor enclosure and granting guests an insight into how lynxes live from a variety of perspectives. In addition, an educational information room for children and adults (the finishing is planned in spring 2024) and the wildcats received a new outdoor enclosure. The opening took place in July 2022.




1972 - how it all began...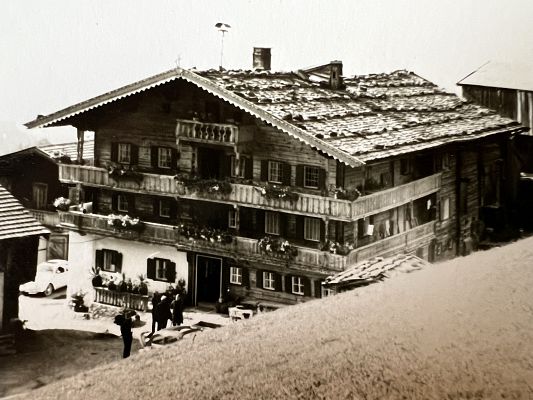 Aurach Wildlife Park was founded in 1972 on the site of "Branderhof" Farm by Alois and Elisabeth Pletzer, in cooperation with Heinrich III DDr. Prinz Reuss. The Branderhof dates back to 1723 and is one of the very few heritage farms that have been owned by the same family for almost 300 years. Branderhof used to be a traditional farm with cattle and horses, but it was very difficult to manage due to its steep hillside location. 16 farmhands were employed in addition to the extended family, in order to cope with the daily working demands. Electricity and telephone connections were only recently installed and there was only a small path leading up to the farm, which is located at around 1,100 m above sea level.

However, Alois Pletzer senior, grandfather of current owner Andrea Pletzer-Gasser, had always planned for an alternative to traditional farm management. When Heinrich III DDr. Prinz Reuss was looking for an ideal site to establish an animal park near Kitzbühel, he found it on the grounds of Branderhof Farm. After some discussions, many preparations and delivery of the first 10 deer, the time had come: "Tirol" Wildlife Park and Gasthaus Branderhofstube were ceremoniously opened.

1977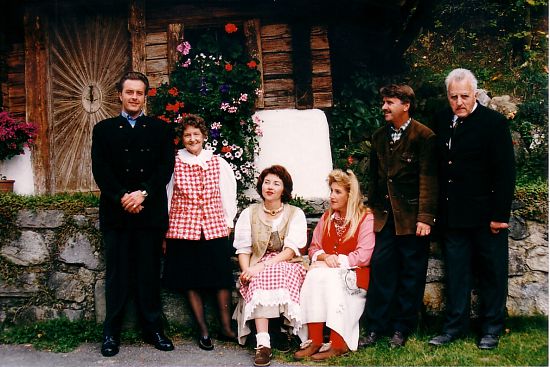 In 1977, Heinrich III DDr. Prinz Reuss withdrew from the business and Wildpark Aurach has been run as a privately owned family enterprise ever since. Alois and Elisabeth Pletzer continued to manage the wildlife park with the support of their 4 children, Oswald, Gertraud, Elisabeth and Alois junior. Wildpark Aurach expanded constantly due to the growing number of animals and increasing diversity of species, while imported exotic animal breeds settled in well. "Tirol" Wildlife Park, now known as Wildpark Aurach, gradually developed into a popular day trip destination for locals and holidaymakers from near and far.
2000
In 2000, Wildpark Aurach gained fame beyond Austrian borders, thanks to the 8-part popular "TV series - Da wo die Berge sind" with Hansi Hinterseer. Main filming locations included the wildlife park, Gasthaus Branderhofstube and Branderhof hereditary farm, with its magnificent display of flowers. The regional film series was written by Edi Ehrlich, married to Elisabeth Ehrlich and son-in-law of Alois sen. and Elisabeth sen. Pletzer.
2006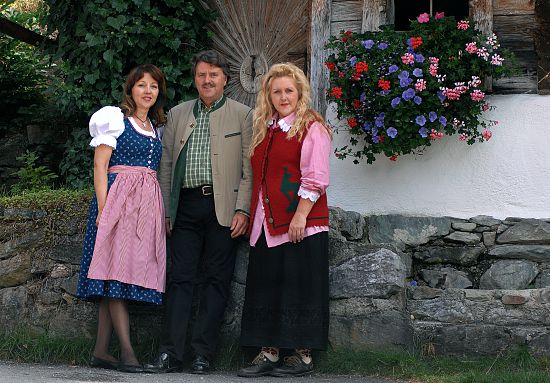 Wildpark Aurach was handed down to eldest son Oswald, in 2006, after which the two founders retired from business life. Oswald was actively supported by his two sisters, Traudi and Lisi, who continued to run the family business with great care and dedication. Alois Pletzer senior passed away in May 2008, followed by his wife Elisabeth Pletzer senior in September 2009.
Heute...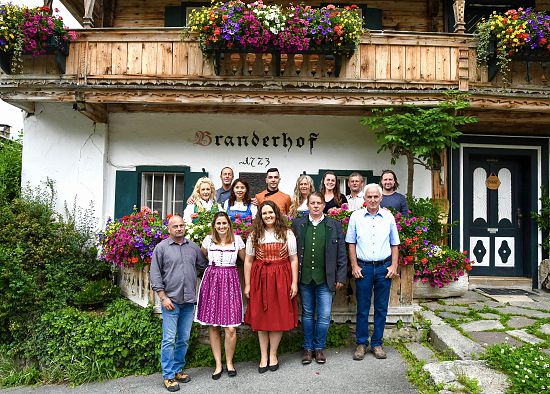 Andrea Pletzer-Gasser (daughter of Gisela Gasser and Oswald Pletzer) has been running the family business since 2015 with the support of her partner Mike and her committed wildlife park team. Andrea Pletzer-Gasser inherited the entire business, consisting of the wildlife park, guesthouse and farm from her father in January 2020, as he retired from business life. In March 2020, however, Oswald Pletzer passed away very unexpectedly at the age of 70.

Meanwhile, 350 animals representing 32 species reside at Wildpark Aurach. In recent years, owner Andrea Pletzer-Gasser has specialised in keeping native species such as red deer, alpine ibex, European wildcats, lynxes, barn owls and little owls. Visitors can also enjoy visiting endangered domestic breeds such as Alpine Steinschafe sheep, Turopolje pigs, Mangalitza pigs and crested ducks. Exotic inhabitants of the wildlife park include Bennett kangaroos, llamas, alpacas, snowy owls and yaks.

The welfare of the animal residents, species-appropriate habitats and facilities that meet current requirements are of paramount importance to the wildlife park team and all employees have poured heart and soul into their work every single day for the last 50 years.